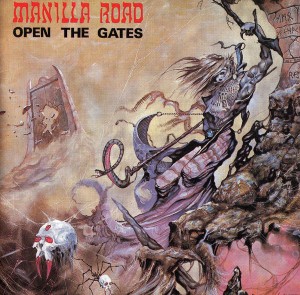 Released in the 80s, this album still today is as astonishing and impressive as when it was released. The band creates a journey to a magik world and does it creating very heavy, epic and dark music. By mixing old prog rock like Tull and Rush, hard rock like UFO with energizing metal a la Judas Priest and Saxon and immersing everything in an Arthurian atmosphere,
Manilla Road
simply created a classic.
The thundering opening "Metal Storm" simply blows up everything in your block. The next, "Open The Gates" slows down the tempo but smashes everything with a killing heavy guitar riff. Then you are left to the amazing piece of art called "Astronomica". My favorite song on this album is "The Fires Of Mars", whose main riff is like a dark lament from a dying bard. I had the LP, the cd changes a little bit the order of the songs as in the past two songs were in an EP.
I would not call this power metal, because it is different from anything in this genre. One is not supposed to worship metal to like it, like with a Manowar album, but one is faded to love metal after listening to this.
Mark Shelton crafts lyrics based on Arthurian myths and dark texts from ancient mythology while sings with rage and beauty and plays intricate guitar riffs and atomizing solos. Randy Fox is probably the best metal drummer to come from the 80s Scott Park delivers thunderous viking bass lines.
A true metal classic, one of the rare gems from 80s American Metal.